Armistice Gallery
Available as Framed Prints, Photos, Wall Art and Gift Items
Choose from 2 pictures in our Armistice collection for your Wall Art or Photo Gift. Popular choices include Framed Prints, Canvas Prints, Posters and Jigsaw Puzzles. All professionally made for quick delivery.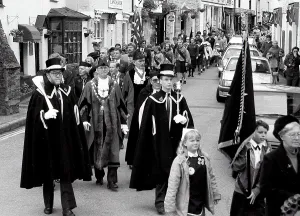 Featured Print
Remembrance Day, Lostwithiel, Cornwall. November 1991
Lostwithiel mayor, John Reed, and macebearers lead the procession, at the bottom of Fore Street, from the church to the war memorial during the Remembrance Day commemoration. Representatives of the town's organisations attend the wreath laying ceremony. Photographer: Jonathan Barker .
© RIC, photographer Jonathan Barker
Armistice, Bearer, Brownies, Colours, Cornish, Great, Guides, Mace, Macebearer, Mayoral Robes, One, Two, World