China Clay Gallery
Available as Framed Prints, Photos, Wall Art and Gift Items
Choose from 2 pictures in our China Clay collection for your Wall Art or Photo Gift. Popular choices include Framed Prints, Canvas Prints, Posters and Jigsaw Puzzles. All professionally made for quick delivery.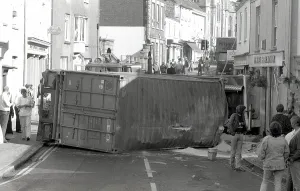 Featured Print
Lorry crash, Lostwithiel, Cornwall. September 1990
A 30 ton lorry, which overturned and spilt its load of china clay, in Queen Street, Lostwithiel, severely damaging Lostwithiel Garden Machinery shop and Jock's Cafe. This was the fourth serious accident involving a lorry losing control on Lostwithiel Hill and was identical to one three years previously. After this latest accident calls were made to made to restrict heavy lorries from travelling through the town. Photographer: Jonathan Barker .
© RIC, photographer Jonathan Barker