Collapsed Wall Gallery
Available as Framed Prints, Photos, Wall Art and Gift Items
Choose from 2 pictures in our Collapsed Wall collection for your Wall Art or Photo Gift. Popular choices include Framed Prints, Canvas Prints, Posters and Jigsaw Puzzles. All professionally made for quick delivery.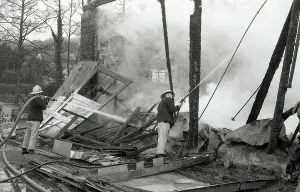 Featured Print
Fire at Great Western Commercial Village, Lostwithiel, Cornwall. February 1987
Firefighters douse flames at the Great Western Commercial Village, which caught fire after a faulty varnish sprayer being used in Southwest Woodcraft workshop caused blow back. The equipment was being operated by owner Eric Adams. Altogether there are around 20 industrial workshops in an adjacent building, which luckily remained undamaged. Photographer: Jonathan Barker .
© RIC, photographer Jonathan Barker