Drawings Gallery
Available as Prints and Gift Items
Choose from 2 pictures in our Drawings collection for your Wall Art or Photo Gift. All professionally made for Quick Shipping.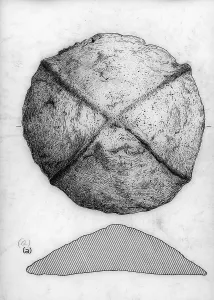 Featured Image
Drawing of Tin Ingot, Praa Sands, Breage, Cornwall
A drawing of one of four tin items found among fossil wood from a submerged forest at Praa Sands in 1974 which had been uncovered during storms (TRURI : LOAN.99.2). The ingot weighs 3.8 kg and measures 18.8 cm x 4.6 cm. This drawing was created by R.D. Penhallurick and featured as Figure (a) on page 234 of his 1986 publication Tin in Antiquity with the caption "A circular, plano-convex ingot weighing 3.8kg bears a raised cross which must have been cut into the mould. The remaining ingots are all pasty shaped"
© RIC