Football Kit Gallery
Available as Framed Prints, Photos, Wall Art and Gift Items
Choose from 2 pictures in our Football Kit collection for your Wall Art or Photo Gift. Popular choices include Framed Prints, Canvas Prints, Posters and Jigsaw Puzzles. All professionally made for quick delivery.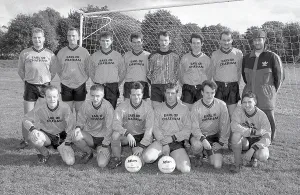 Featured Print
Football Team, Lostwithiel, Cornwall. November 1992
Lostwithiel Football Club's new strip, sponsored by the Earl of Chatham pub, with balls sponsored by the Globe Inn. Back row, from left to right: Nick Coon, Jock, Andy Annear, Dave Swiggs, Keith Sturgess, Paul Julian, Ian Cox, Robin Read (Trainer); Front row, from left to right: Stuart Johnson, Chris White, Mike Rabey, Andy Honey, Andy Rogers, Steve Rule. Photographer: Jonathan Barker .
© RIC, photographer Jonathan Barker