Gigs Gallery
Available as Framed Prints, Photos, Wall Art and Gift Items
Choose from 2 pictures in our Gigs collection for your Wall Art or Photo Gift. Popular choices include Framed Prints, Canvas Prints, Posters and Jigsaw Puzzles. All professionally made for quick delivery.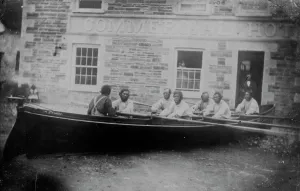 Featured Print
The gig 'Thomas' outside the Commercial Hotel, Central Square, Newquay, Cornwall. Around 1860-1866
A view of the gig 'Thomas' and crew of 7 in front of the Commercial Hotel, later known as the Central Inn, Newquay. The landlord of the hotel between 1860 and 1866 was a man named Thomas. The gig may have been named after him possibly for a function in his honour. Photographer: Ennor.
© From the collection of the RIC
Cornish, Gigs, Hotels, House, Port, Pub, Public, Resort, Rowing