Hospitals Gallery
Available to buy for immediate use
Choose from 2 pictures in our Hospitals collection for your Wall Art or Photo Gift. Popular choices include Framed Prints, Canvas Prints, Posters and Jigsaw Puzzles. All professionally made for quick delivery.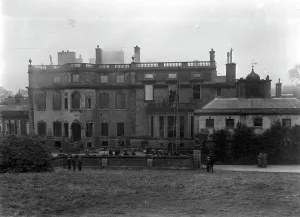 Featured Image
Aftermath of fire at Tehidy, Illogan, Cornwall. February 1919
Side view of the house after the great fire of 26th February 1919. The fire is still smouldering and firefighters with the Redruth fire engine can be seen tackling the blaze, watched by many onlookers. The manor of Tehidy was owned by the Basset family who prospered from mining and their vast estate. The 40 bedroom mansion house seen in the photograph was built in 1855 to replace the earlier mansion of 1734. The manor was sold in 1916 ending 700 years of Basset rule. The house was acquired for the treatment of tuberculosis sufferers and handed over to Cornwall County Council on Whit Monday 20th May 1918. The fire devastated the building two weeks after the hospital opened and it was rebuilt by the County Council. Photographer: Arthur William Jordan.
© From the collection of the RIC