Low Loader Gallery
Available as Framed Prints, Photos, Wall Art and Gift Items
Choose from 2 pictures in our Low Loader collection for your Wall Art or Photo Gift. Popular choices include Framed Prints, Canvas Prints, Posters and Jigsaw Puzzles. All professionally made for quick delivery.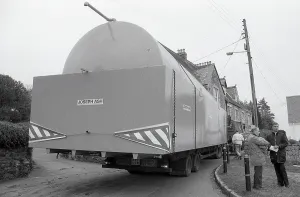 Featured Print
Restormel Road jammed by Lorry, Lostwithiel, Cornwall. March 1993
Restormel Road, Lostwithiel, blocked by a low loader lorry carrying a diesel storage tank for the Restormel water works. Residents at Glentworth Terrace have made numerous complaints about heavy lorries attempting to negotiate the narrow road that leads to the water works. Within a couple of years of this incident a relief road was built from Sweetshouse to the water works. Photographer: Jonathan Barker.
© RIC, photographer Jonathan Barker