Musician Gallery
Available as Framed Prints, Photos, Wall Art and Gift Items
Choose from 2 pictures in our Musician collection for your Wall Art or Photo Gift. Popular choices include Framed Prints, Canvas Prints, Posters and Jigsaw Puzzles. All professionally made for quick delivery.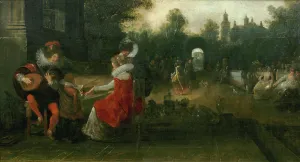 Featured Print
A Concert Party, Artist Unknown
Oil on board, Dutch / Flemish School, 17th century. The painting was previously known as 'Queen Elizabeth and the Earl of Leicester at Kenilworth' and attributed to Dirk Hals (1591-1656). Hals was the brother of the more famous 17th century painter Frans Hals. He studied in Haarlem under Abraham Bloemart, and his works often depict scenes of dancing and music-making. Robert Dudley, Earl of Leicester, was one of Queen Elizabeth's favourites. She bestowed on him his title and gifted him Kenilworth Castle in Warwickshire as a mark of her affection. The event, which the painting was originally believed to depict, occurred in 1575, when the Earl of Leicester, entertained the Queen at Kenilworth. There were three weeks of revelry and banquets and the visit was much talked about at the time. Following research undertaken in 2004, doubt was cast on the painting's original attribution due to uncertainty why a Dutch painter should choose this event for a subject at least 40 years after it occurred.
© RIC