Olive Gallery
Available as Framed Prints, Photos, Wall Art and Gift Items
Choose from 2 pictures in our Olive collection for your Wall Art or Photo Gift. Popular choices include Framed Prints, Canvas Prints, Posters and Jigsaw Puzzles. All professionally made for quick delivery.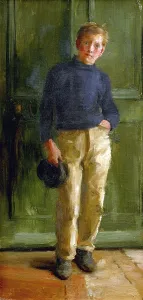 Featured Print
The Boy Jacka, Henry Scott Tuke (1858-1929)
Oil on canvas, Newlyn School, 1886-1888. Full length portrait of boy against a green door. Henry Scott Tuke was born into a Quaker family in Lawrence Street, York. In 1859 the family moved to Falmouth, where his father Daniel Tuke , a physician, established a practice. Tuke was encouraged to draw and paint from an early age and some of his earliest drawings, aged four or five years old, were published in 1895. In 1875, he enrolled in the Slade School of Art. Initially his father paid for his tuition but in 1877 Tuke won a scholarship, which allowed him to continue his training at the Slade and in Italy in 1880. From 1881 to 1883 he was in Paris where he met the artist Jules Bastien-Lepage, who encouraged him to paint en plein air (in the open air) a method of working that came to dominate his practice. While studying in France, Tuke decided to move to Newlyn, Cornwall where many of his Slade and Parisian friends had already formed the Newlyn School of painters. He received several lucrative commissions there, after exhibiting his work at the Royal Academy of Art in London. In 1885, he returned to Falmouth where many of his major works were produced. He became an established artist and was elected to full membership of the Royal Academy in 1914. Tuke suffered a heart attack in 1928 and died in March 1929. In his will he left generous amounts of money to some of the men who, as boys, had been his models. Today he is remembered mainly for his oil paintings of young men, but in addition to his achievements as a figurative painter, he was an established maritime artist and produced as many portraits of sailing ships as he did human figures. He was a prolific artist, over 1,300 works are listed and more are still being discovered. Tuke painted over 13 portraits of 'quay scamp' and deckhand Jack 'Jacka' Rowing (Rolling) between 1886 and 1888. Rowling eventually became a diver for the Liverpool Salvage Company. Many of Tuke's models, like Phillip Harvey at Newlyn and Edwin 'Neddy' Hall in Falmouth, were local fishermen, mariners, or shipworkers.
© RIC