Tricorn Hats Gallery
Available as Framed Prints, Photos, Wall Art and Gift Items
Choose from 2 pictures in our Tricorn Hats collection for your Wall Art or Photo Gift. Popular choices include Framed Prints, Canvas Prints, Posters and Jigsaw Puzzles. All professionally made for quick delivery.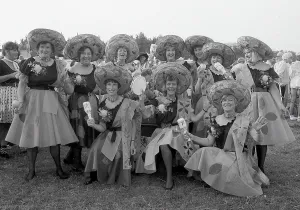 Featured Print
Regatta and Carnival Week, Fowey, Cornwall. August 1993
Elaine and her Girls came this year as Mexican dancers, complete with sombrero hats and maracas. They came second in their group. Photographer: Jonathan Barker .
© RIC, photographer Jonathan Barker
Big Hats, Cornish, Costume, Dress, Event, Fancy, Floral Dresses, Flowers