Truck Gallery
Available as Framed Prints, Photos, Wall Art and Gift Items
Choose from 2 pictures in our Truck collection for your Wall Art or Photo Gift. Popular choices include Framed Prints, Canvas Prints, Posters and Jigsaw Puzzles. All professionally made for quick delivery.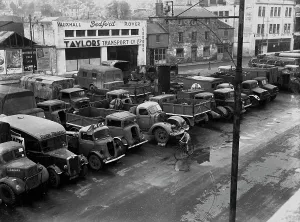 Featured Print
Lemon Quay from Back Quay, Truro, Cornwall. Mid 1940s, towards the end of the Second World War
A view from Back Quay towards Taylors Transport Ltd.'s garage with the car park full of lorries. Just out of frame, on the right, are the premises of H.T.P. Motors Ltd. During the Second World War, H.T.P. handed the Army most of their stock of cars and commercial vehicles and purchased transport generally for Government purposes. Large cars were converted to ambulances and essential civilian motor transport was provided and maintained. Ranging from armament production to the repair of Spitfire components, H.T.P.'s activities extended and multiplied rapidly with the country's growing demands. The parked vehicles are awaiting maintenance or conversion in the H.T.P. Auxiliary Army Workshop. Photographer: unknown.
© From the collection of the RIC