Home > Ships > Baratanach

Baratanach Gallery
Available as Framed Prints, Photos, Wall Art and Gift Items
Choose from 1 pictures in our Baratanach collection for your Wall Art or Photo Gift. Popular choices include Framed Prints, Canvas Prints, Posters and Jigsaw Puzzles. All professionally made for quick delivery.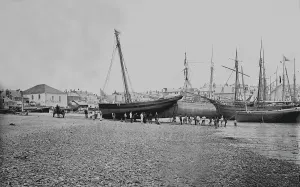 Featured Baratanach Print
The Cardiff pilot cutter No12 Baratanach on the beach at St Ives, Cornwall in 1879, the year she was built.
Baratanach on the beach at St Ives with the topsail schooners Drake and John Carnall and the fishing lugger S.S.619 in the background. The pilot cutter Baratanach (ON 81779) was built in 1879. The schooner John Carnall (ON 11429) was built in 1833 at Fowey, registered at Fowey and owned by Tregenza of St Ives. The fishing lugger S.S.619 was built in 1827 at Bideford, registered at Swansea and owned by Tregenza of St Ives. Photographer: Edward Ashton
© From the collection of the RIC