Home > Places > St Keyne


Our St Keyne Gallery
Available as Framed Prints, Photos, Wall Art and Gift Items
Choose from 1 pictures in our Our St Keyne Gallery collection for your Wall Art or Photo Gift. Popular choices include Framed Prints, Canvas Prints, Posters and Jigsaw Puzzles. All professionally made for quick delivery.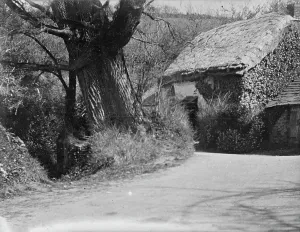 Featured St Keyne Print
St Keyne's well, Cornwall. Early 1900s
The well, much overgrown, with a cottage on the right hand side. St Keyne was a holy woman from Wales who lived as a hermit in Cornwall in the 5th century. The church and well are named after her. According to legend, whichever partner drinks from the will first will have the upper hand in marriage. There is a poem by Richard Southey "The well of St Keyne". Photographer: Unknown.
© From the collection of the RIC